Model Train Scales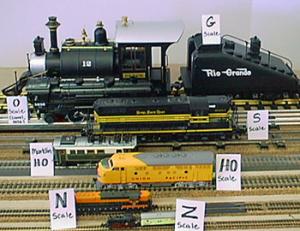 The various model train scales out there are one of the most important things that you need to learn about - it's a huge part of using trains and collecting them. You don't want to have a mish-mash of different scale styles as nothing will go together and you'll be left with a jumbo-lot of different projects.
Instead, you want to be able to fully understand the model train scales that are out there so that when you are buying items, you know exactly what kind of scale you are looking for in the first place. Getting the right scales each time can be very useful, so look out for;
HO Scale - Typically, HO scales are quite large and are regularly used in the US and other North American nations. The scale is roughly 1:87.1, and can be a good one to use for your larger train instruments
OO Scale - Typically 1:76.2 in scale, these are the most popular model train sizes that are used within the United Kingdom. They are typically quite large and the scale itself has changed over time to fit greater scale accuracy requirements of hobbyists across the UK
N Scale - At 1:160, many N scale objects are quite a bit smaller than the two listed above and will typically be used for people who want to create a vast project which is smaller in overall size, but fits more miniscule details in across the piece
Scale - O scale can vary from 1:48-1:43.5 and are typically a fair bit larger than many of the other scales mentioned above. O scale has become more popular with time
G Scale - G Scale is :122.5 and is very large, and is known for it's size and durability - it's used in garden railway sets most commonly
TT Scale -1:120, this is typically reserved for tiny designs and are quite popular across Europe because they are very small, allowing for lots of items to be crammed in to a smaller table
Z Scale - Z scale is 1:220 and is very small indeed, and can be very interesting to use if you are looking to create a tiny little railway area
You can build different scenes and projects in different scales, of course, but trying to combine them all into one can look a big strange. You'll be left with a lot of odd shapes and things going on that simply do not match together.
Whilst you can get it to work together effectively in some circumstances, such as if you want to create the idea of perspective, it's typically a very hard thing to pull off and we would recommend sticking with one of the model train scales to begin with.

Learn The 7 Most Common Model Train Mistakes
We are giving away a FREE GUIDE with a list of the 7 most common mistakes people make when building model trains. Download your copy now by clicking the button below!
Download