N Scale Train Layouts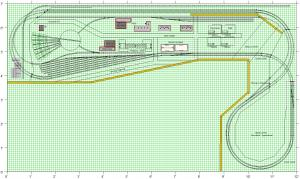 Creating your own little reality through the wonder and class of train layouts can be a great thing to do - it lets you develop a little working world that you can always improve and add to over time. However, one of the most challenging aspects of creating quality train layouts is having something that is actually in the right scale - you can buy huge amounts of items out there for train layouts.
Not all of them, though, are going to be same scale or size. Nothing is more annoying than buying a layout that is too big for your trains, or trains that are too big for your layout!
Therefore, when buying any kind of layout or train model, you want to buy things that are genuinely in the same scale and proportion as one another. One particular kind of scale that you can get, for example, are n scale train layouts. These are very easy to find and can in various styles, making it easy to create an attractive and classy looking n scale train layout.
This becomes much easier once you know what you are looking for, as anything marked 'N scale' will be usable for the package that you are using.
The scale ratio of a n scale layout is 1:160, making it nice and easy for people to work out what kind of size of project they are going to end up with at the end. You'll find that everything fits this scale, but you need to be aware of something known as a Code when buying N scale train layouts.
For example, rails will be designed in a code and you need to buy rails within the same code to actually work together properly, not just in N scale. For example, a Code 55 rail will be 0.055 inches high, whilst a Code 80 rail will be 0.080 inches high. You are building a railroad so it's vital to get this spot on at the first time of asking otherwise you'll waste a lot of time and money sending things back and forth because they never were capable of fitting!
This allows for layouts that are much more diverse than a HO scale, as it's a lot smaller. This means that you can fit in extra detail and more features whilst using the size of table/canvas, and is a preferred style for many train hobbyists.

Learn The 7 Most Common Model Train Mistakes
We are giving away a FREE GUIDE with a list of the 7 most common mistakes people make when building model trains. Download your copy now by clicking the button below!
Download