Second Hand Model Railways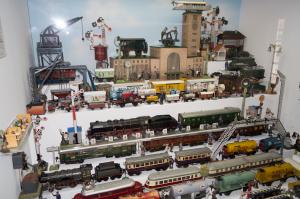 Keeping an eye out for second hand model railways is a great way to pick up a bargain. Whether you are looking to add to your existing collection, or get started in modelling without shelling out for a brand new train set, you can find some great second hand model railways, both online and locally, for example in your local paper classifieds, or your local hobby shop.
Look for pre-owned second hand model railways can work whether you just want to find a good deal, or even if you are looking for something specific. Of course, the more specific you are the more luck you need to find the right product, but keeping your eyes open and knowing where to look can help you grab a bargain.
Similar to buying a second hand car, when buying second hand model railways there are some things you should look out for.
Be careful when buying online - Online auction websites such as eBay can be a great place to buy second hand model railways, but it's also a great place for scammers looking to make a quick buck. Check the seller feedback and give the item listing a critical look over to make sure they describe the item well.
Has the seller tested the product?
Has the seller cleaned the product? This can be a good indication of how well the seller treats the item.
Remember to shop around. Just because something is second hand doesn't guarantee you a good deal. Remember to look for similar products elsewhere to get an idea of costs, and also compare the price to the price of a brand new product. You might find the difference in price is worth going for a brand new product.
Does the product come with it's original box? If not will the seller supply a suitable replacement? The original box is ideal as it helps retain the value if you ever wanted to sell the item on in the future. It also protects the item in transit to you. Another benefit that is sometimes forgotten about when buying second hand model railways is the box helps protect the item when you don't have it set up. Usually this means putting your trains away in the attic or garage. Having all your products in their boxes helps ensure they will still work when you take them out again.
The most popular listings for second hand model railways is the locomotives, carriages/wagons, track and controllers. These are typically the most expensive elements of a model train layout so this makes sense. It means you can make some good savings on the larger ticket items, and can also allow you to try several different model scales before choosing the scale you prefer. One good way to do this is to buy some second hand track and carriages for a few different scales to see how they feel and get a sense for how easy they are to work with. You can then resell the scales you do not use, and buy more of the scale you prefer, either continuing to buy second hand track, or now you are more confident you know what you want you can go for some new products.
If you buy a second hand model railway it opens up so many possibilities to expand your collection while keeping expenditure to a minimum.

Learn The 7 Most Common Model Train Mistakes
We are giving away a FREE GUIDE with a list of the 7 most common mistakes people make when building model trains. Download your copy now by clicking the button below!
Download